Thank you for visiting the Loss and HOPE website
We are a coalition of Christian organisations seeking to help the Church support those bereaved – currently equipping churches across the UK to run The Bereavement Journey for those grieving in our nation.
Below is a welcome from Archbishop Justin Welby for churches and a short film by Rev Yemi encouraging churches in communities hardest hit by the pandemic to run The Bereavement Journey (available on social media for sharing).
Please remember to direct people as much as possible in all your activities to AtaLoss.org and be ready to support people with The Bereavement Journey and other support activities.
Click here for how to support those bereaved during the pandemic.
If you have been bereaved please search AtaLoss.org for support services and information, and here for locations of The Bereavement Journey – a place to talk.
Thank you!
Wonderful guest feedback on The Bereavement Journey
Thatcham Baptist Church have been running The Bereavement Journey, and shared this super feedback with us, from a guest who benefitted from having a safe space to process their bereavement.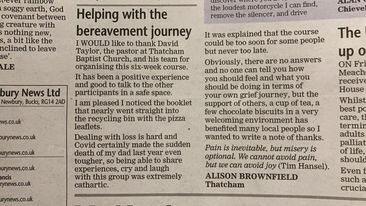 Please tell us about resources and initiatives
that can be added to this website
– and get involved: